About
The daddelkischde is a circuit board kit to build a Raspberry Pi Zero into a classic Game Boy case to play old (handheld) console games on it. The most important electronic components are already included on the boards. In combination with other parts and free software you can build a portable retro console.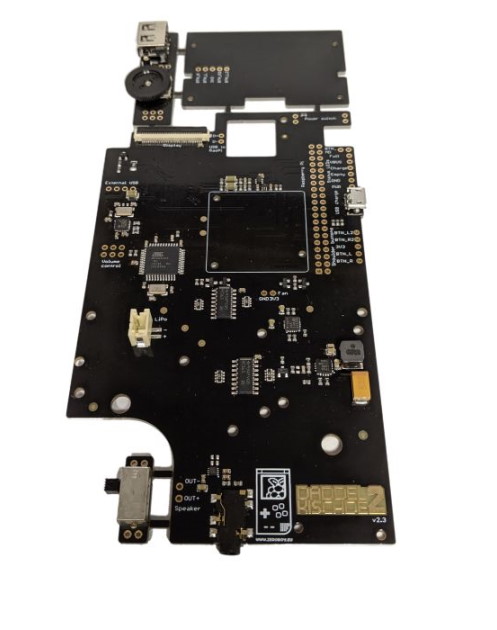 Features
SNES button layout (D-pad, Start, Select, A, B, X, Y and shoulder buttons L and R)
Integrated charging circuit for LiPo batteries (charging and playing is possible at the same time)
Stereo headphone jack with volume control knob
Audio amplifier for a mono speaker
2-port USB hub
USB A port for external devices such as keyboard, additional game pad, USB stick etc.
Micro USB port for charging
Analog-to-digital converter for measuring the battery voltage (matching Python script for displaying a battery icon is available for download)
Soldering pads for LEDs (Device powered on, empty battery, charging, fully charged)
STL files of the holding components for 3D printers free to download
Delivery
Main PCB
USB PCB
Shoulder buttons PCB
Headphone jack
Stereo volume control knob
2x20 pin pin header
To build a complete Game Boy Zero you will need additional parts. You can find a parts list under build.
Name
Where does the name daddelkischde come from? Simple: That's how we call our selfmade Game Boys here in the Kurpfalz (region in southern Germany): Daddel-Kiste! "Daddeln" means to play computer games, "Kiste" is a box.