About (daddelkischde 2)
The daddelkischde 2 is the evolution of the daddelkischde. It's a board kit to put a Raspberry Pi Zero or Raspberry Pi 3 A+ into a classic Game Boy case to play old (handheld) console games on it. The most important electronic components are already included on the boards. In combination with other parts and free software you can build a portable retro console yourself.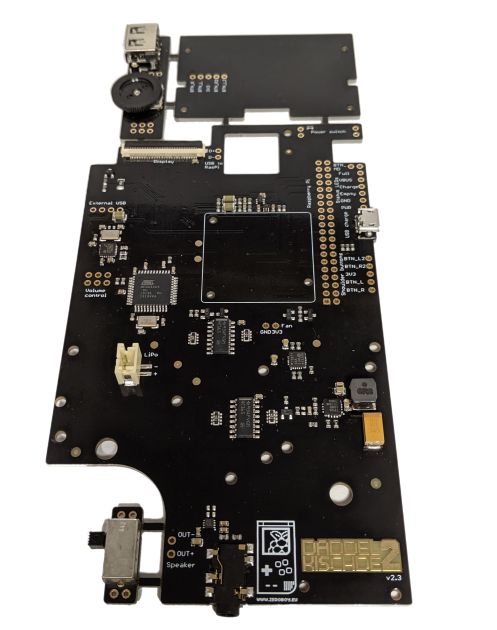 Features
3.5" DPI display with a resolution of 480x320 pixels, 60 Hz, adjustable backlight
Supports Raspberry Pi Zero and Raspberry Pi 3 A+ (for more computing power)
SNES button layout with additional, optional buttons (D-pad, Start, Select, A, B, C, X, Y, Z, shoulder buttons L, R, L2, R2 and mode button)
Option for connecting an analog joystick
Safe shutdown, i.e. the operating system shuts down cleanly with the on/off switch and then the power supply is completely disconnected
Integrated charging circuit for LiPo batteries
Stereo headphone jack with volume control knob
Audio amplifier for a mono speaker
2-port USB hub, one port accessible from outside
USB A port for external devices such as keyboard, additional game pad, USB stick etc.
Micro USB port for charging
Connection option for a software-controlled fan
Soldering pads for LEDs (device powered on, empty battery, charging, fully charged)
STL files of the holding components for 3D printers free to download
Delivery
Main PCB
USB/audio PCB
Shoulder buttons PCB
Power switch PCB
all boards are already assembled
pin headers for soldering the boards
To build a complete Game Boy Zero you will need additional parts. You can find a parts list under build.